Energyboost | Sugarfree | Absorption within 10 min
One box contains 20 sachets of First Blue Mint.

Properties
1 First Energy Gum contains:
Product description

First Energy Gum is the superhero of the chewing gum world! Within 10 minutes, you are provided with an unbeatable energy boost that helps stay alert. Instead of a cup of coffee or energy drink, take two First Energy Gums for a sugar-free and long-lasting energy boost.

The only distinction between Red and Blue Mint is the taste. Red Mint has a filling with a hint of pomegranate, while Blue Mint immediately triggers a mint explosion. Now you may be wondering what a pomegranate tastes like!? We describe it as an energizing sensation that turns into a refreshing mint experience after a few minutes. So, if you like a colorful adventure in your mouth, choose Red Mint, but if you want to taste mint immediately, go for the cool Blue Mint with its blue filling.
Nutritional values and ingredients
How to use?

Did you know that First Blue Mint works so fast, you'd almost think it had super power? 99% of the caffeine in FIRST is absorbed into the bloodstream through the cheek mucosa within 10 minutes. Therefore, you don't have to keep chewing the gum longer to feel the effect. That means you have more time to enjoy the clean energy boost and extra focus that FIRST provides. So leave that coffee and chew FIRST, the super-powerful gum that improves your day in a flash!

Keep in a cool and dry place.
Recommended amount

The effect of caffeine varies from person to person. It depends on caffeine sensitivity and body weight. European Food Safety Authority (EFSA) research has shown that the effects of caffeine are noticeable from 75 mg of caffeine.

FIRST is manufactured in Europe and has been approved by the EFSA. EFSA concluded in scientific research on the safety of caffeine (2015) that an intake of up to 400 mg per day does not pose a health risk. This is consistent with the findings of the FDA, Health Canada and the Dutch Nutrition Center.

Warning: High caffeine content (1667mg/100g). Not suitable for children, pregnant or breastfeeding women and persons sensitive to caffeine. Do not consume in large quantities. Excessive consumption may cause laxative effects.
View full details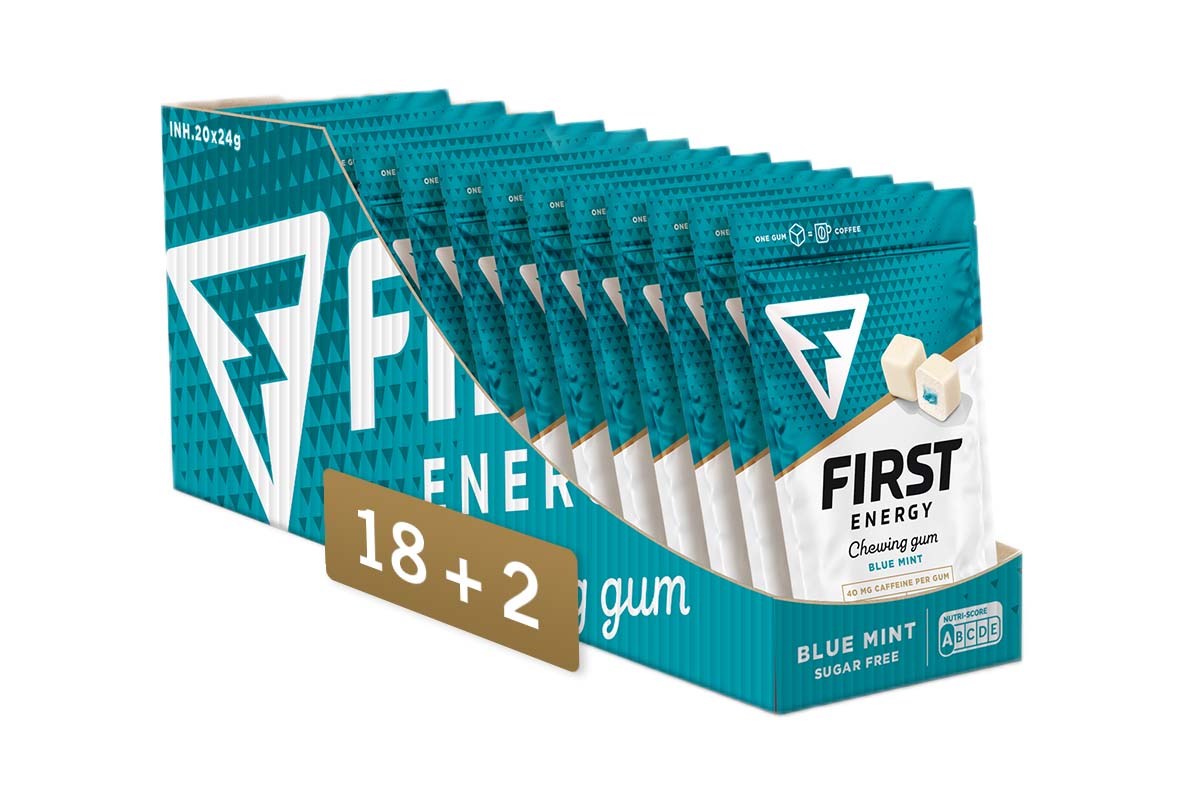 What others think
Fijn
De mintsmaak is prima, niet overweldigend. Het kleine zakje is handig.
Misleidend
Misleidend , deze kauwgum is niet suiker vrij, er zitten verschillende suikers in alleen onder een andere naam, als de echte suiker.
Beste Aart,
First Energy Gum bevat polyolen, dat zijn meervoudige suiker moleculen en iets anders dan wat er bedoelt wordt met 'suiker'.
Suiker, ook bekend als sucrose, is een eenvoudige koolhydraat dat van nature voorkomt in veel voedingsmiddelen, zoals fruit, groenten en zuivelproducten. Het bestaat uit twee componenten: glucose en fructose. Suiker wordt vaak gebruikt om voedingsmiddelen en dranken te zoeten en geeft ook energie aan ons lichaam. Wanneer je suiker eet, wordt het snel opgenomen in het bloed en leidt het tot een snelle stijging van de bloedsuikerspiegel.
Polyolen, ook wel bekend als suikeralcoholen of polyol-suikers, zijn een ander type koolhydraat dat vaak wordt gebruikt als zoetstoffen in voedingsmiddelen. Polyolen worden vaak gebruikt om suiker te vervangen in voedingsmiddelen die minder calorieën of een lagere glycemische index moeten hebben, zoals dieetproducten en suikervrije snoepjes. Polyolen zijn afgeleid van suikers, maar ze worden anders gemetaboliseerd door ons lichaam.
Het belangrijkste verschil tussen suiker en polyolen ligt in hun chemische structuur en de manier waarop ons lichaam ze verwerkt:
1. **Chemische structuur:** Suiker bestaat uit enkelvoudige suikermoleculen, terwijl polyolen complexere chemische structuren hebben en lijken op zowel suikers als alcoholen.
2. **Smaak en zoetheid:** Polyolen zijn over het algemeen minder zoet dan suiker. Hierdoor worden ze vaak in grotere hoeveelheden gebruikt om dezelfde zoetkracht te bereiken.
3. **Calorieën:** Hoewel polyolen koolhydraten zijn, leveren ze over het algemeen minder calorieën dan suiker. Ze bevatten ongeveer 2,4 kilocalorieën per gram, terwijl suiker ongeveer 4 kilocalorieën per gram bevat.
4. **Glycemische index:** Polyolen hebben meestal een lagere glycemische index dan suiker, wat betekent dat ze de bloedsuikerspiegel minder snel doen stijgen na consumptie. Dit kan gunstig zijn voor mensen die hun bloedsuikerspiegel onder controle moeten houden, zoals mensen met diabetes.
5. **Vertering en tolerantie:** Suiker wordt snel verteerd en opgenomen, wat kan leiden tot schommelingen in de bloedsuikerspiegel. Polyolen worden langzamer opgenomen en kunnen door sommige mensen beter worden getolereerd dan suiker, vooral omdat ze minder invloed hebben op de bloedsuikerspiegel.
Alle claims op ons product zijn gecheckt, we volgen het boekje hierbij, en zijn eerlijk over onze informatie voorziening.
Prima en lastig
Prima chewing gum, geeft energie die ik nodig heb! Jammer dat ie aan mijn frame blijft plakken. Kunnen jullie daar nog iets op verzinnen? Stimorol kauwgom doet dat niet.